We all want a comfortable chair but how much are you willing to pay for the final chair? Here we see some of the most expensive chairs in the world:
The Oculus chair has curved backs like eyes and is priced at more than $5000. Adjustable back and neck support can be moved to sit in a variety of comfortable positions. Available in leather or cloth with brushed stainless steel legs, this is a fancy offering indeed!
More than 50 years ago the Coconut chair was developed and has shallow sides and curves so you can sit in any position and move easily. At $ 5,439 you might need to start saving up if you like the sound of this crazy chair.
A designer named Harry Bertoia designed the wire chair collection in 1952 and the Bertoia Asymmetric chaise is a collection that costs in excess of $6000. It is made of welded steel; rods with polished chrome and stainless-steel finishing. Luckily it also comes with vinyl seat cushions or it might feel a little hard and cold!
Not all of us have the required budget for some of these wonderful chair creations, but that doesn't mean we have to settle for second best. Check out the range of reasonably priced replicas of top 20th century designs, like the Eames Office Chair from https://www.pash-classics.com/office/chairs/
The Egg Chair was designed in 1958 for the lobby of the Royal Hotel in Copenhagen. This chair is soft with cold-cured foam and is designed to cradle you as if you were inside an egg. Sounds very comfortable and various Egg chairs are available in various colors and materials for the amount of just under $8000 for an original!
One of the most prominent architects in recent years is a man named Frank Gehry and he collaborated with furniture makers to make the Gehry Power Play Club chair. The chair shows the strength of the highly flexible and bendable maple strip. Structurally strong but still allows for great movement and flexibility and is priced at just under $10,000.
Increasing the price tag significantly, the banquet Chair can be yours for $ 85,000. That is indeed a special chair! Designed in 2006, only 25 were made so getting one might prove complicated. Each chair represents a different animal and for example, a panda chair is made of panda toy dolls that are hand sewn on canvas. Now, this is a really cute chair!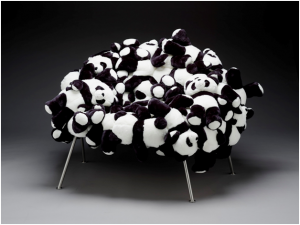 And now for the most expensive chair in the world – the Dragon Chair. At a whopping $ 27.8 million, this 1971 creation was designed by Eileen Gray. It was expected to reach several million, but it was sold for the amount above by Yves Saint Laurent. The chair was covered in brown leather and decorated with two dragons with black varnish eyes.